2011 Veterans Christmas Concert Announced
Denise will perform her annual Christmas concert for the wounded veterans at the Hines Veteran's Hospital on December 20th along with musicians from Broadway In Chicago backing her. This is always one of her favorite shows to do each year and there is no better audience in the world!
Denise & Pat!
Denise backstage with Pat Boone at Bearcreek Farms earlier this year.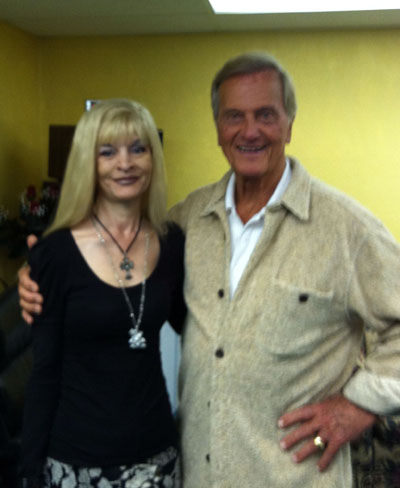 HOTEL LAFAYETTE rated #4 - January, 2010
Every year members of the Long Island Broadcasting Group puts together a list of the top 50 new albums of the year and then plays them in a countdown on New Year's Eve on radio station WHLI. Here it is:
THE TOP 50 RELEASES OF 2009
50. Kevin Dozier – Love-Wise
49. Lindsay George – Living Inside Out
48. Tish Oney – Dear Peg
47. Melinda Doolittle – Coming Back To You
46. Carol Welsman – I Like Men
45. Neal E. Boyd – My American Dream
44. Engelbert Humperdinck – A Taste Of Country
43. Bernie Williams – Moving Forward
42. Larry Applewhite – Don't Pull Away (single)
41. Nathaniel Nunziante – I Walk These Roads
40. Linda Eder - Soundtrack
39. Deana Martin - Volare
38. Engelbert Humperdinck– Endlessly b/w No One Ever Told Me (single)
37. Jaimee Paul – At Last
36. Carrie Underwood w/ Randy Travis – I Told You So (single)
35. La Tanya Hall – It's About Time
34. Various artists – Sinatra: His Way, Our Way
33. Harry Connick Jr. – Your Songs
32. Jane Monheit – The Lovers, The Dreamers, And Me
31. Traincha – Who'll Speak For Love (Burt Bacharach Songbook II)
30. Jonny Blue - Taboo
29. Frank Rendo – Deliver Me
28. Jeff Bradley – Sunset (single)
27. Jackie Ryan - Doozy
26. Donna Greene & The Roadhouse Daddies – A Girl's Gotta Have A Little Pleasure
25. Robert Poe – I'd Rather Be Blue (single)
24. Nellie McKay – Normal As Blueberry Pie
23. Frank Sinatra – Sinatra; New York (5 disc box set: 4 CDs, 1 DVD)
22. Melissa Morgan – Until I Met You
21. Carl Beluga & His Orchestra - Starswinger
20. Tony DeSare – Radio Show
19. Sally Kellerman - Sally
18. Diana Krall – Quiet Nights
17. Frank Sinatra – Sinatra Live At The Meadowlands
16. Jane Norman – With Love To Frank Sinatra and Judy Garland
15. Victoria Hart with Pavao – The Lost Gershwin
14. Liza Minnelli – Liza's At The Palace
13. Paul Potts - Passione
12. Rod Stewart - Soulbook
11. Ray Stevens – Ray Stevens Sings Sinatra …Say What?
10. Gary Fields – Sounds About Right
9. Perry Danos – Swingin' On The Moon
8. Big Bad Voodoo Daddy – How Big Can You Get?
7. Barbra Streisand – Love Is The Answer
6. Melody Gardot – My One And Only Thrill
5. Todd Murray – Stardust & Swing
4. Denise Brigham – Hotel Lafayette
3. Vanessa Williams – The Real Thing
2. Michael Buble – Crazy Love
1. Renee Olstead - Skylark
Looks good to us!
Vegas Trip - June, 2009
In early May right after the album's release Denise and Adrian flew to Las Vegas to meet with several radio stations and industry people. Business is business, but this gives us a chance to post a picture of Denise with Kim Linzy, music director at KUNV. If every MD was as nice and sweet as Kim the world would be a much happier place!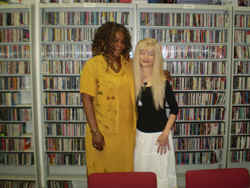 HOTEL LAFAYETTE Officially Released - May, 2009
HOTEL LAFAYETTE was officially released on April 27th in a very wonderful and highly emotional way.
During one of the final vocal sessions an idea was floated about possibly involving the Make-A-Wish foundation in the day by offering a recording session for one of their kids in need. Denise was thrilled with the idea because this has been her dream since childhood, and if she could make it happen for another young adult she wanted to do it. Make-A-Wish was contacted and what unfolded turned out to be of the best matches they have ever done. The morning of April 27th a very lovely and talented young lady named Taylor arrived at Chicago Recording Company with her whole family including her grandmother and her boyfriend. She was greeted by Colin Welford and the entire orchestra from "Wicked" and spent the next few hours recording three songs. Carey Deadman served as the producer and arranger and Chris Steinmetz headed up the engineering. In other words, the entire team that did Denise's album came back together to donate their time and services to make Taylor's wish come true. That afternoon Carey and Chris mixed the songs and at Denise's album release party that night in Studio 4 Taylor was introduced as the special guest of honor and presented with her own album. In a flood of happy tears she said it was the best day of her life, and to be able to make it happen made the release of HOTEL LAFAYETTE very special indeed!
A Very Special Letter Received - February 2009

While the engineers are busy doing the final edits we sent an advance promo copy of "The Cincinnati Kid Theme" to the legendary Hollywood composer Lalo Schifrin. Mr. Schifrin, who has written the music for many great movies including many of Steve McQueen's and Clint Eastwood's, wrote this incredible song in 1965 for the movie which starred Steve McQueen, Edward G. Robinson, Ann Margaret and Karl Malden. To this day many consider it to be the best movie about poker that has ever been done. The song became so important to us that it really became the centerpiece of the album and even led us to name it "Hotel LaFayette" in honor of the filming location in New Orleans. A couple of days ago we received this letter from Mr. Schifrin,
Dear Ms. Brigham:

Thank you so much for selecting the Cincinnati Kid for your recording. I must congratulate you for your rendition and also, please convey to the arranger and the musicians my applause. The record is really cooking and your singing is outstanding! You mentioned that Andre Kostelanetz's instrumental version which I haven't heard. On the other hand, I had the pleasure to compose, arrange, record, and conduct the original for Ray Charles in the end credits of the film. Once again, Bravo!

Best regards,

Lalo Schifrin
Needless to say we are all very, very proud of this!